The management of BtoBioInnovation is composed of two talented individuals with complementary skills and expertise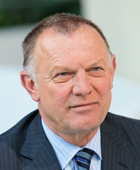 Jean-Claude Muller, PhD

24 years of Business Development experience
Special Advisor at I&IR. During his earlier career at Sanofi-Aventis, in Paris, he was a Senior Vice-President of Prospective & Strategic Initiatives within the R&D organisation.
---
He was in charge of establishing long-term strategic corporate development scenarii, detecting, identifying and assessing the potential value of breakthrough opportunities. In 2009, he was the chief architect of the new R&D 2015 vision and in 2007, the architect of the R&D China Initiative. He was the Founder and President, from 2005 until 2009, of the "Pôle de Compétitivité Medicen Paris Region", the Paris Region Biomedical Sciences Cluster.
He is currently member of the editorial board of MedNous, a journal and a website for people involved in the business of medical innovation. In May 2013, he was appointed as an independent Board Director of the Qiagen (Suzhou) Translational Medicine Company based in Suzhou, China.
Nathalie Accornero, PhD

15 years in Marketing & business development
After a PhD in molecular & cellular Biology, she worked as Marketing Manager for a communication agency specialized in pharma & implantology.
---
She was then in charge as business developer to attract foreigner european companies for a french biotech event, the European Biotech Crossroads. She joined a start-up company Biocell Interface, to develop the market of multielectrode array as Marketing Manager & Business Developer She worked for Merck Biosciences (Calbiochem, Novagen,Novabiochem) now Merck Millipore, before starting Ao Marketing Life sciences / btobioinnovation.
Download the CV (Word format) Download the CV (PDF format)